ChemHub Vision: To be recognized for reliability, dedication, and excellence in CMO service
ChemHub Mission: To provide uncompromising high-quality long term reliable service
ChemHub Values: Integrity, Reliability, Responsiveness, Innovativeness, Teamwork
ChemHub is a dedicated CRO and CMO focusing on small and commercial-scale production and serving clients in the pheromone, flavor & fragrance, and fine chemical industry sectors. ChemHub's staff and contractors have extensive experience in the custom campaign to produce complex and high-value chemicals. In addition, our experience & expertise and strategic JV networking help us make difficult-to-find chemicals at a reasonable price and in a much more pleasant and productive manner.
About the founder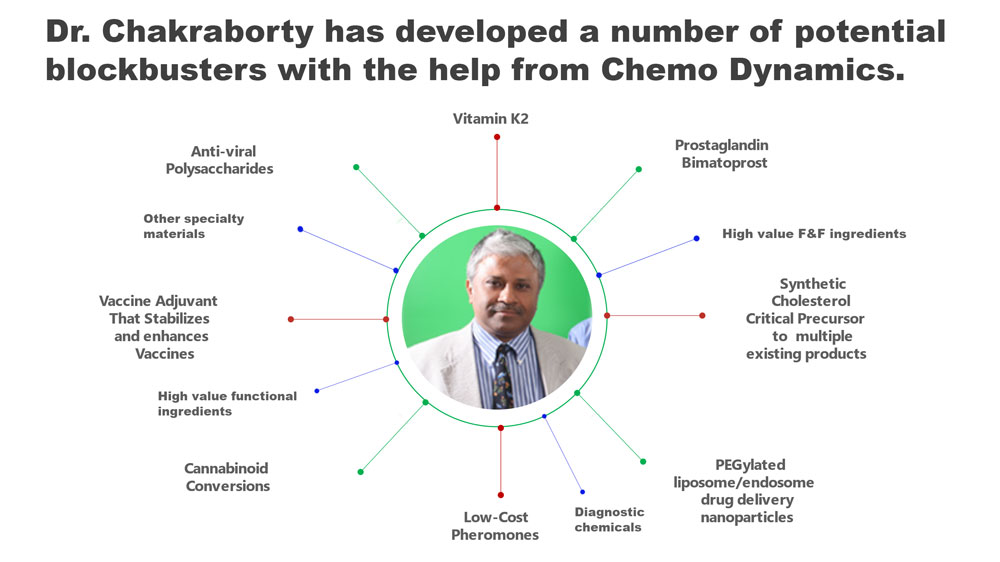 Subir Chakraborty has thirty years of experience in research, technical and global marketing/ management for natural & fine chemicals and polymers with application as medical and food supplements, flavor & fragrance, pheromones, prostaglandin, active pharmaceutical ingredients, etc. Broad array of diversified skills having strong academic background and commercial mindset. Noted for creating strategic business, creativity & innovation, technology plans that drive significant growth while focusing on cost management, and continuous improvement. Conducted many seminars on technology and techno-management and authored a few publications and patents. Major accomplishments include development of non-toxic airbag formulation, increase the anti-aging potency of some natural ingredients, development of puncture-proof radial tire, green chemistry process development, sophisticated pest control program development using pheromone to reduce pesticide consumption. Owner of Chemo Dynamics, Inc. since 2008 November. Leading on various organic and polymer projects at Chemo Dynamics with special emphasis on pharmaceutical application. Developed processes for monomers and tyrosine based polymer compounds that have applications in medical devices such as heart stent and bone related applications. Also worked on ethylene oxide based polycarbonates that has wound care application.
Chemo Dynamics has wide experience in synthesis and scale up of various organic molecules including API and advanced API intermediates. Also has helped clients with blockbuster IP projects.
ChemHub Key Area Focus
CRO/CMO partner providing reliable and cost-effective chemistry to customers in Flavor and Fragrance and Pheromone industry sectors
Custom research and manufacturing services for pharmaceuticals and fine chemical industries
Supplier of specialized intermediates for pharmaceutical and other specialty application
Innovative solutions for chemistry challenges
Your Innovation Partner for any new chemicals
ChemHub Mission to Customers
Provide optimal and most suitable solutions for every client
Offer high quality, cost effective and reliable delivery
Custom/Toll Manufacturing of fine chemicals to boost clients' profitability
Maintain superior customer service and communication with customers to understand their requirement
Engage in long term partnership with clients
ChemHub Strong Risk Management Profile
ChemHub has Adequate business and general liability insurance.
ChemHub Key Strategic Partners
ChemHub maintains key strategic relationships with a number of research and manufacturing partners for Raw Material control, Process control, Quality control.
Chemo Dynamics – a US based CRO, located in New Jersey with over five decades of research knowledge and reputation for producing high quality products with efficient and fast turnaround times
ChemHub has successfully synthesized more than 10,000 compounds mainly in the pharmaceutical and Biotech industries
Joint venture with several global companies to manufacture chemicals exclusively for ChemHub
ChemHub Key Accomplishments
Blockbuster IP development on diabetes drug for our client which resulted in $500M transaction to larger pharma company
Removal of impurities on ppb level from the production process
Development of safe and robust process for making Ammonia borane
Aliphatic chain coupling robust and inexpensive technology