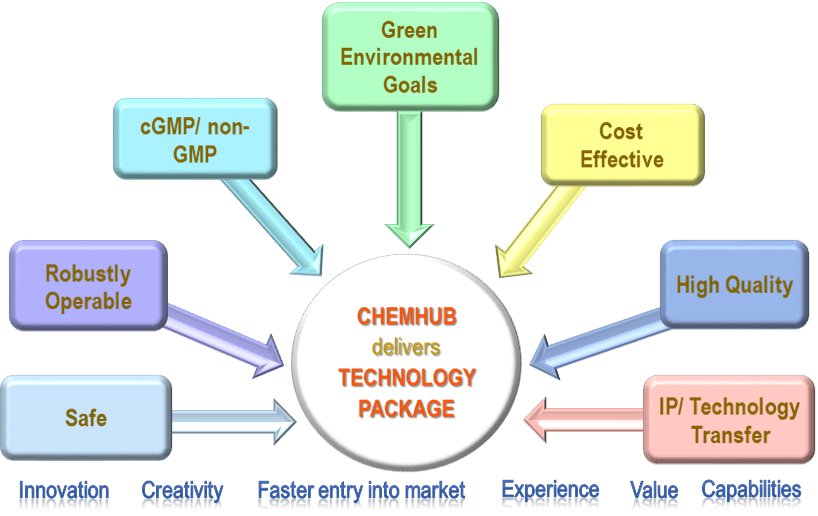 ChemHub support clients in three key areas
CRO/CMO partner providing reliable and cost effective chemistry to our customers in the flavor and fragrance industry
Custom research and manufacturing services to the pharmaceuticals and chemical industries
Supplier of specialty and pharmaceutical and intermediates
ChemHub Key Capabilities
Strong Control of the Production Process
Well developed and fined tuned processes
Immediate availability to execute orders
Low cost, large scale and high quality products manufactured
Significant control over key raw materials
Large Scale Production & Certification
Capacity is in several tons per month with ability to upgrade as needed or required
COA will be for every single MT
Ability to issue COA, Food Allergen and GMO Certificate and monitor quality control
Option to use Kosher Certified and food grade material
Excellent Innovative Processes at ChemHub
Production is done in finest GLR and SS equipment under GMP like condition
Stringent Purification Process through fractional distillation, crystallization,
Processes are free from halogenated solvent
Offer extremely high pure material that are best suited for F&F and Pheromone and Pharma applications
Some examples of Commercial Products
Maple Furanone
Caramel Furanone
Delta Octalactone
Delta Nonalactone
Delta Decalactone
Delta Undecalactone
Delta Dodecalactone
Tiglic Acid and Esters
2-Methyl Hexanoic acid and Esters
Oranger Crystals
3-Methyl-2-Cyclohexenone
6-Methyl Quinoline
Tetrahydro-6-Methyl Quinoline
6-Isopropyl Quinoline
Ethyl 3-Hydroxy Hexanoate
4-Methyl Acetophenone
4-Methyl Propiophenone
1-Acetyl Naphthalene
3-Decen-2-one
2-Phenyl-2 (2-Pyridyl) Acetonitrile
Triethylamine Hydrochloride
2-Phenyl-2-(2-pyridyl)acetamaide
2-Phenyl-2-(2-piperidyl)acetamide
4-Carboxy-4-phenylpiperidine tosylate
1,2,3-Trimethoxybenzene
3,4,5-Trimethoxytoluene
4-Chloropropiophenone
3-Methoxybenzaldehyde
3-Methoxybenzonitrile
3-Methyl-2-cyclohexenol
3-Methoxypropiophenone
2,3-Dibromobutane-1,4-diol
4-Chloroacetophenone
Menthol substitute-such as WS-23, WS-3
Melonal
Vanillin isobutyrate
Methyl Jasmonate
Undecatriene
Alkynes such as 1-Octyne
Haloalkynes such as 1-Bromo-2-Butyne
Alkynol such as 2-Hexyne-1-Ol, 3-Nonyne-1-Ol
Alkynoic acid and their esters
Haloalkene such as trans-1-Bromo-1-Hexene
Alkenol such as trans-5-Decene-1-Ol
Alkenol such as trans-5-Decene-1-Ol
11-Bromo-1-Undecanol
10-Undecynoic acid
Core Strengths
Core strength lies in the synthesis of products through various chemistry on a large scale.
Successfully make products for our customers through handling of diverse chemical reactions.
Offer distinct advantages in terms of price, Quality and other deliverables such as removal of unwanted impurity or a better impurity profile, better yields thus leading to better pricing, passing on the cost advantage to the customer etc.
The prime focus for us is to innovate with the available chemistry and design equipments to achieve value addition for our customers worldwide.
Reaction/Process Capability
Bromination
Hydrobromination
Dehydro halogenation
Grignard reaction
Grignard Coupling
Sodamide coupling
Palladium coupling(sonagashira Reaction)
Protection & deprotection with DHP
Michael additon
Esterification
Acetylenic coupling
Cis or Trans reduction
Wittig reaction
Butyl lithium reaction
Aldol Condensation
Claisen Condensation
Dieckman Cyclization
Darzen Condensatio
Knoevenagel Condensation
Meerwein-Ponndorf-Verley Reduction
Bayer — Villiger Reaction
Hoffmann Reaction
Friedel-Kraft Reaction